Objectives:
Understand the various consumer loans
Calculate the cost of a consumer loan
Searching for and finding an appropriate source for your loan
Controlling your debt
---
Reading For This Module:
Chapter 7 – Keown, Arthur, "Personal Finance: Turning Money into Wealth, Prentice Hall Publishing. 6thedition
Textbook Power Points (.pptx)
---
Opening Vignettes:
Credit isn't just "credit cards". Any time that you spend money that isn't yours, you can put yourself deeper into debt. Many times terms are unfavorable and predatory.
FunnyMoney, Get It On Credit – Investor Education Fund (video) (03:56) (opens in new window)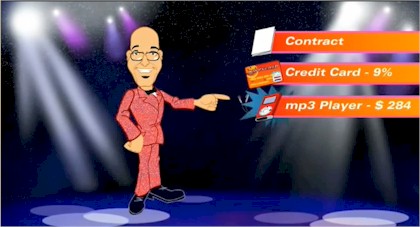 ---
Introduction to Consumer Loans:
This chapter is a primer on different types of consumer loans, associated loan costs, and the numerous sources of consumer loans. Strategies are presented to reduce direct loan costs to borrowers, which also reduce the lenders risk.
Planned borrowing as a component of the larger household financial plan is considered, including the tax implications of using savings instead of credit. Two measures for determining a comfortable debt level are introduced, as are strategies for managing debt when credit is overused.
---
Dr. Waller Lecture: Consumer Loans (video) (25:12)
This video lecture discusses the various types of consumer loans and the advantages and disadvantages of each. This lecture corresponds to the chapter 7 in textbook.
Lecture Consumer Loans PowerPoint (.pptx 24sl, 585KB)
---
Should You Get A Payday Loan?
Payday Loans (DON'T DO IT!!!!) – There are many ways to obtain cash when a person needs money and cannot wait until payday. One option is a payday loan. A payday loan is a short-term loan providing immediate cash, typically secured by a borrower's written check or authorization for automatic withdrawal from the borrower's bank account.
Payday loans are also known as cash advance loans, check advance loans, post-dated check loans or deferred deposit check loans. Payday loan transactions can be performed by check cashers, payday loan stores, pawn shops, toll-free numbers, and sometimes even rent-to-own companies. Payday loan companies can be in the risky form of an internet lender where a person will be required to give the lending company access to financial accounts as well as a social security number.
This type of transaction increases the risk of fraud and identity theft. While payday loans offer quick money, interest rates and fees make the loans costly to consumers.
The file below provides additional discussion of payday loans..
Payday Loans (.pdf 238KB, 3pp)
What are payday loans? What are their pros/cons and alternatives?
---
Practice Quiz (does not count toward grade)
---
Quizzes
Take the quiz for this module on Canvas.